Big Tech Declares Information War
Twitter and Facebook admit to stopping spread of bombshell Hunter Biden report
Twitter and Facebook suppress bombshell report on Hunter Biden
(Updates below)
This morning the New York Post reported how a laptop owned by Hunter Biden held an email revealing that Joe Biden lied about knowing anything about, or meeting, a Burisma executive ahead of pressuring Ukraine to fire one a top prosecutor investigating the company for corruption.
The never-before-revealed meeting is mentioned in a message of appreciation that Vadym Pozharskyi, an adviser to the board of Burisma, allegedly sent Hunter Biden on April 17, 2015, about a year after Hunter joined the Burisma board at a reported salary of up to $50,000 a month.

"Dear Hunter, thank you for inviting me to DC and giving an opportunity to meet your father and spent [sic] some time together. It's realty [sic] an honor and pleasure," the email reads.

An earlier email from May 2014 also shows Pozharskyi, reportedly Burisma's No. 3 exec, asking Hunter for "advice on how you could use your influence" on the company's behalf.

The blockbuster correspondence — which flies in the face of Joe Biden's claim that he's "never spoken to my son about his overseas business dealings" — is contained in a massive trove of data recovered from a laptop computer.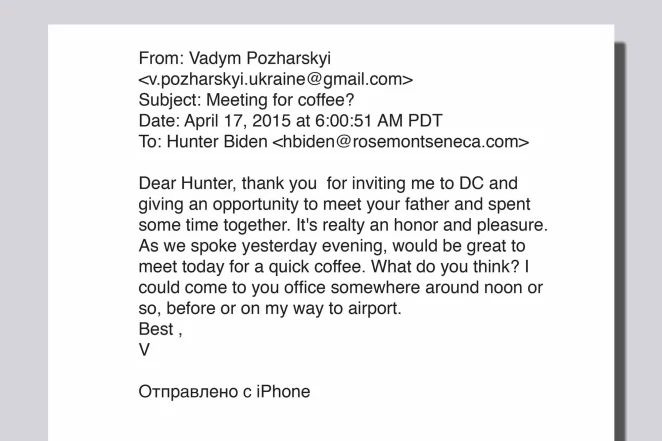 This follows a report showing Joe Biden golfing with a Burisma executive in August of 2014, several months after Hunter Biden was named to the lucrative $50k per month board position — and before Joe Biden denied knowing anything about his son's business dealings.
In response to this, both Twitter and Facebook have moved to stop sharing of the report. What happened when I clicked the link from Twitter's website: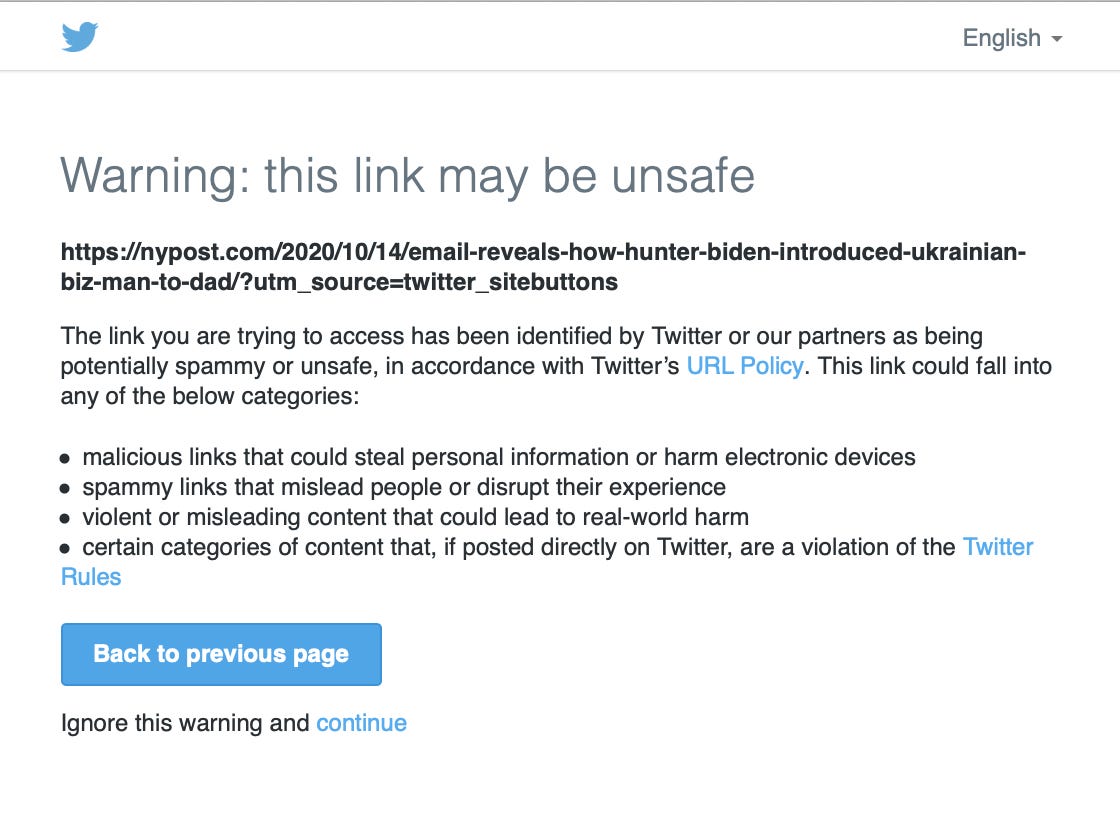 What other users saw when they tried to share the link: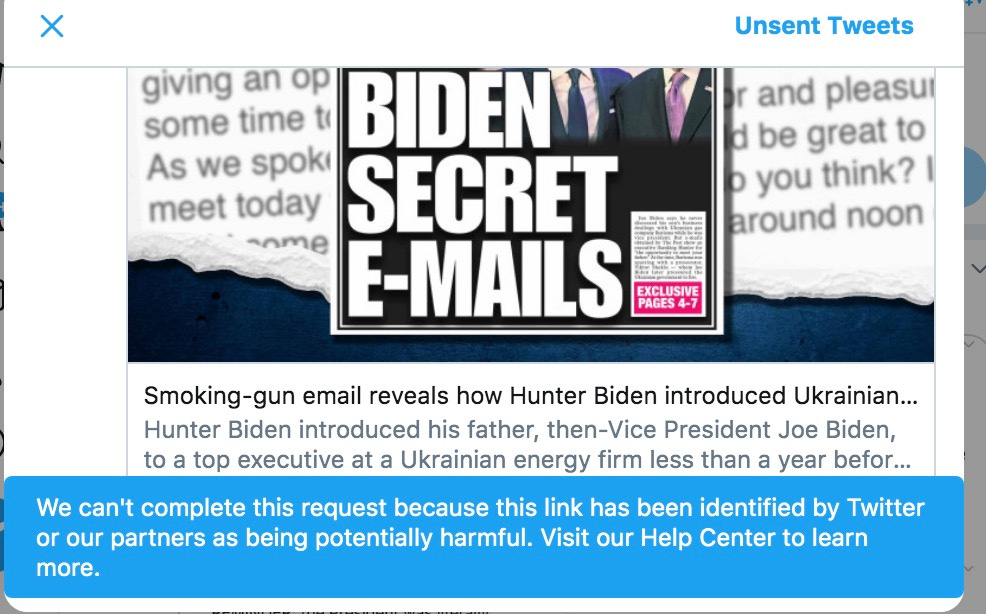 Twitter even moved to limit what the government could share about the Democrat nominee's son:
Even Buzzfeed reported it: Facebook Limited The Reach Of An Unconfirmed Story About Joe Biden's Son Hunter.  Twitter Blocked It.
When Biden was first confronted about the Burisma story and Hunter Biden's advantageous hiring, Biden was angry and short:
Without identifying any source material that it disputes, Facebook's Communications Director, longtime Democrat staffer Andy Stone (Don't forget, Twitter's Public Policy Chief joined the Biden campaign), Tweeted today:
In its response, the New York Post notes that Hunter Biden nor anyone else disputes any aspect of the story beyond his hunter saying vaguely that the story is "discredited," which it has yet to be widely reported on, much less discredited. Joe Biden's campaign simply said their schedule doesn't reflect any meeting.
So now you have two tech companies giving every optic of engaging in corporate censorship to benefit a Democrat campaign. Isn't the point of such reporting to invoke further investigation? If legacy press had a problem with any aspect of this story why then wouldn't they work to report to the contrary instead of demanding the story be stricken outright from national discussion? As I discussed on air, I always have questions whenever the sourcing of anything involves Steve Bannon because my distrust of his character is built on a decade of having known him in person, beyond far-removed headlines. Legacy press's refusal to knock that low-hanging fruit just makes the story look even more legitimate, not less so. Their insistence on demanding radio silence from their ideological compatriots (several progressive journos were reprimanded for even broaching the topic to counter it, for daring to give it any attention) furthers the belief in the story's legitimacy rather than subtracts from it. Also, what an incredibly blockheaded move: Twitter and Facebook just made the story even bigger and what's more, they made themselves part of it. How can they claim to support an open society of information exchange as they work against it?
I've leaned somewhat against the removal of Section 230 protections while understanding both sides, but these tech companies aren't helping themselves, and an absolutely merciless Senator Josh Hawley is waiting in the wings:
Others are using phrases like "coup." Hawley doesn't disagree:
One thing is for certain: Twitter and Facebook have zero respect for the intellect of their users to navigate challenging reporting. When is enough enough?
Hawley's approach here is the right one:
*UPDATES BELOW:
Senator Ted Cruz has now responded:
Reporter Curtis Houck was suspended for even sharing screencaps of the story:
Meanwhile:
Twitter is now blocking any attempt to share the story (I just tried again). More:
Here's a legitimate question I have:
I'll update on the responses with a separate, follow-up post tomorrow morning and follow that with on air discussion during tomorrow's program.
More:
I previously discussed Section 230 here:
So where from here? If you're opposed to government regulating a large and influential private entity because the entity operates according to the partisan politics of the owners and/or staff, what is the solution? It's a private entity. After everything we saw with the FBI and even within the DOJ regarding the Russia/Trump witch hunt, are we seriously considering giving government agencies the authority to regulate the final frontier of speech? If anything, that all of these government agencies were fueled with bitter partisanship makes me realize how much moreresponsibility we should assume back from the federal government. Here we are talking about giving them more control. To put it quite simply, I don't trust the government to tie a shoe and I definitely do not trust it to determine winners and losers in publishing. I'm too battle-scarred for that. Trump has been careful to prioritize the individual over the state, most definitely witnessed in his pandemic response so I'd like to give him the benefit of the doubt more than I'd perhaps give to others attempting to influence him, for better or for worse, in the punditry circuit. Maybe he's playing chicken with Twitter.

So what then, impose anti-trust laws? Some have proposed this as a more sensible solution than modifying or dissolving immunity via section 230. But this only reignites the debate on the incompatibility between antitrust laws and laissez-faire capitalism. While all this takes place, we're still left with a large and influential digital entity (entities, really) that can absolutely affect the outcome of an election, the news cycle, even perhaps foreign policy. I'm in search of an answer and unopposed to good arguments.
The anti-trust approach looks to be like the most commonly-supported position at the moment.
More previous commentary on Section 230 from radio:
So here is the big question: Is this affecting an election? Is that argument alone to allow the federal government to regulate private tech companies? Also, I'm more interested in why Big Tech is so insistent on triggering this reaction from the federal government. To squash smaller companies that lack financial resources and cannot fight nuisance suits?
More — from Twitchy:
---